Lost.
Have you ever had a conversation that ended up altering your life in many ways?  Not just your perception on your life but the way you view that which you thought you knew.   I had one of those the other day.  Actually it's still affecting me three days later.  And I have no one I can talk to about it.  Well maybe one person but I am scared to.  Perhaps because talking about it will make it...
"LIFE SHOULD NOT BE A JOURNEY TO THE GRAVE WITH THE INTENTION OF ARRIVING SAFELY..."
– Carol McCorkle (A wonderful lady I had the great pleasure to have known.  May she be carried into heaven on the wings of angels.)
"Merry Christmas to all! And to all a good night!"
Dear God...
I'm running on empty here. I kind of feel dead inside right now. Maybe it's preparing me for what's coming but I don't like it. I don't know what to ask for so I'll just ask that you make the coming events as easy and painless as possible. Maybe a little help feeling the Christmas cheer I usually have would be good too.
Prepare all you want... it will still hurt a lot.
A family friend is dying.  She pretty much has been for most of this past year.  The out look for how long she had has seemed to be given in chunks.  Maybe till the end of May.  Hopefully till Thanksgiving… Well the final word has come… one to two months, maybe.  Attempts at treatment have been stopped and hospice plans are being made.  Also requests for what to put in a obituary have...
Another long day.
It's been one of those long, but not busy, kind of days.  H had to go in for another biopsy today.  His third since last December.  And while in some ways this one was better, in others it's a bit worse than the two previous ones. This time H's Urologist (Dr C.) seems a bit more skilled… or perhaps the better way to put it would be up-to-date on his techniques.   Back...
Remember what I said about fall...
I was right. 84 degrees yesterday, it's supposed to be 80 today. This is not fall.
I think it's fall
The weather has turned cold. I'm bundling up more in the morning and evening.  But I still  don't trust the weather gods enough to say that fall is officially here.  I've had too many random warm days the past few weeks to get lulled into the false belief that it's time to put away my tank tops and short sleeves till summer.   However, while I might not switch my wardrobe...
My semi alter ego is
a shapely, thin, leather clad, motorcycle riding, red head.
Expanding waist line
My belly is getting big.  Not that I didn't have a belly before all of this but now it is getting bigger and it's not cause I've gained (much) weight.  And it will keep growing for the next several months. For those who are slow on the inferences I am expecting, with child, knocked the f- up.  Also know as being pregnant.  And right now I'm starting to feel… no...
The day the world stood still
It's the time of year again when we get to relive the horror of one September day.  This time it will probably be bigger.  It's been just about ten years now since that fateful morning.  And much like the every other big disaster those of us that were old enough to understand what the attack meant will always remember how we heard about it, where we were, and what we were doing. I...
3 tags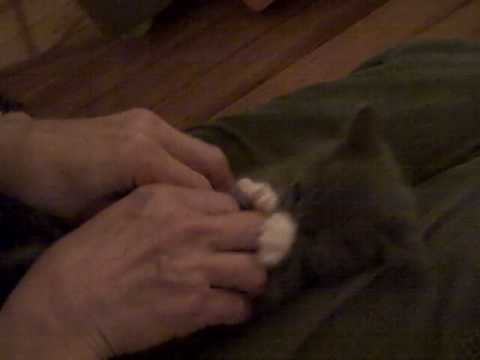 Rather annoyed
There is a member of my church who has complained about some of the children in our church. Their complaint- they are too loud and disruptive. The method of dealing with it? No not the obvious one of speaking to the parents and saying "Hey I'm sure your kids are great and it's wonderful the you want them to be present for the service to hear not just the lessons but the whole...
Mama Cloth: Ramblings on comfort, cost, ick factor...
OK first and foremost before reading on please be aware I will be talking about my "lady time." I'm not going into detail but consider yourself warned.  I've been lurking on an eco-friendly message board and seeing posts about "fluffy mail."  It turns out that the term is used to describe most mail that is of a soft nature, i.e. not bills or the other grown-up...
Random truth
I've heard it time and again. Often from newly married women. That as soon as the wedding is over they get sick (or something similar from other stressed out folks). As if they had so much stress (both admitted to and ignored) in their bodies there was no room for cold or flu viruses to enter, take hold and multiply. This was true for me too… well to an extent. I caught "Swine...
Passing Time
The first two hours home from work on Mondays are spent marking time in fifteen minute intervals.  Then the next six hours tracking the frequency and time my husband goes to the bathroom.  This is how the next four Mondays will be spent.   I spent yesterday marking inches of snow, shovel fulls, and plow passes.  Eight inches to fourteen to twenty four. Last night marking the protest of my mussels...
"May the road rise to meet you, May the wind be always at your back. May the..."
– Celtic Blessing
The death of one year. The birth of another.
Well here I sit with my hubby not long after watching the ball drop to welcome the new year.  2010 has been a long year.  Most of the long part having happened in the month of December.  I will probably need to write about that sooner than later but for now I will leave you with this: May the coming year bring you happiness, good health to you and ones you love, and a sense of peace and well...
1 tag
Dream chasing (or geting the best and worst...
I'm sure it's happened to you… you're having a really good dream that gets interrupted by something (the alarm clock, phone, your bed buddy-either human or animal) and try as you might you just can't get back to the dream.  I hate when that happens, especially this time. Last night, or more accurately this morning, for the first time in I don't know how long I...
"Donna wanna go to work! More vacation now… Please!"
– Me this morning
It's baaaaaack
My summer cold has come early this year. With any luck it will not be back for a repeat performance during my vacation (which is it's normal time slot).
I may be a masochist...
I've got two doctors appointments and a weigh-in. Yes folks that's three times in two days my chubby ass will be climbing onto a scale. Let's see whose scale I like better!
1997
I turned 16. Got my car (a red 1987 VW Cabriolet)! I still miss that car to this day and wish I had never sold it and delt with the leaks… Stupid, stupid, stupid!
Nanny dimes
Ok so some how in my family there's gotten to be a link between finding dimes and my grandmother's spirit being around. Not sure how much stock I put into this theory. I put more weight into finding Canadian coins either in my change or on the street. You see my Nan was born on Prince Edward Island and live there till she was about 13. It was her favorite place to be. So to me...
I would have picked a different dress.
Ok so let me just say this first- I liked my wedding dress a lot. But in all honesty i'm not really sure it was 'THE' dress. Were I to go back and do it again I would have picked a different dress.
Help me understand...
Why is it that on many occasions the picture of a completed dish doesn't sync with the steps in the recipe? Last night I was reading a recipe for a zucchini ribbon salad that had a picture of broad thin strips of squash and zucchini. And yet the recipe says to cut the strips again so they look like linguini. I just don't get it.